Telecom execs: Islandwide broadband coverage 'doable' in 5 yrs., but gov't must step up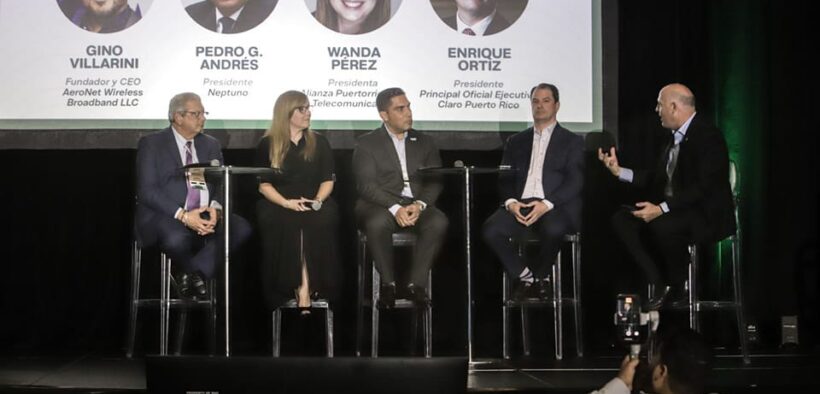 Representatives from the Puerto Rico's telecommunications sector said this week that Puerto Rico can "undoubtedly" meet the goal of having islandwide broadband access in five years, but the government must step up to make its plans happen.
The five-year rollout is contained in the government's Smart Island Initiative, which has some $800 million available in local and federal funds to carry out efforts that focus on four main pillars: connectivity, quality, accessibility and knowledge. The program was created through Executive Order 2022-40, which also designated a committee to oversee the initiatives.
"It can be done in five years. But the issue is about streamlining permits," said Claro Puerto Rico President Enrique Ortiz de Montellano. "The permitting process must be expedited. In our case, telecom projects are often local, affecting just one town, but other projects reach three towns, a bridge and a road. Then the permits fall on different agencies."
"From the government's perspective, it's important that it streamlines and is on top of all the different permitting agencies and stakeholders associated with broadband deployment. Puerto Rico is the best-positioned U.S. jurisdiction right now to have islandwide broadband connectivity, because on top of getting this money from the Biden administration, we have an additional $100 million available through the Uniendo Puerto Rico fund from the Federal Communications Commission."
"Puerto Rico will have two opportunities, from two different funding groups for the same goal. So, in that sense, if we don't achieve it, then we were the ones who failed because other states have only one funding program available," he said.
Gino Villarini, founder of Aeronet — an independent broadband service provider — said in the case of smaller companies, achieving full connectivity could be done in less than a year, under the right circumstances.
"I support the government's initiative, but we have to move fast. Time is ticking and we're against it. We're all interested in moving this forward because it will benefit the people of Puerto Rico and the economy," he said.
At the summit held on Wednesday, Gov. Pedro Pierluisi outlined various programs that have been allocated funding and resources. The first program, which has been designated $50 million, focuses on providing public Wi-Fi by retrofitting public spaces such as libraries, community centers, town squares, and public beaches with high-speed broadband.
Another program is the Resilient and Robust Internet Program, to which $30 million has been assigned, so that internet providers throughout the island can buy backup generators, solar panels and batteries that ensure uninterrupted service in an emergency. The program will start in August and funding should be allocated before year's end.
Another $200 million in federal and local funds will be used to bury fiber optic cables.
"This is definitely very important. Burying existing fiber is extremely important for the island's resiliency, so that it's at its maximum capacity," Villarini said.
Meanwhile, Pedro Andrés, founder of Neptuno Networks, said gaining access to funding for those types of projects benefits the smaller or independent providers who lack the "deep pockets."
"We're excited about having access to that type of funding and we're glad that it is there to try to help us improve the infrastructure," he said.
As for participation by the telecom sector in the committee overseeing the government's plans, Wanda Pérez, president of the Puerto Rico Telecom Alliance, again stressed the importance of speeding up the permitting process.
"There's an executive order that establishes certain procedures, but when you get to the permitting agencies, they're either unaware of it, or haven't adopted processes to implement it. And depending on the agency, they have a different playbook for each region," she said. "If we're invited to sit at the table, then we can make suggestions on how to get that information to the agencies and municipality to obviously ensure that the process moves forward."
"We're sure we can get this done in five years. But we need permitting to move along with the rest of the process," she said. "The use of federal funds comes with very strict milestones, and whether you get it done by the deadline or have the permits, is your problem. So, the permitting issue is something that has to be addressed with regards to telecom projects."
Ortiz de Montellano summed it up succinctly: "An extraordinary plan on paper will stay on paper because the execution isn't in the committee's hands, it's out there, in the permits and in the execution."