Tourism activity showing signs of improvement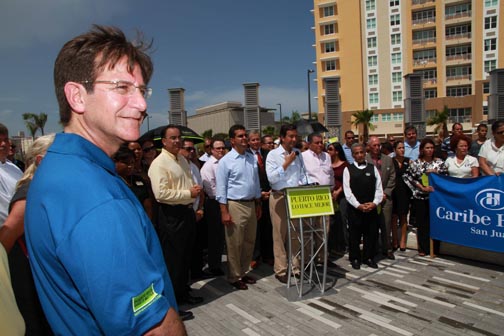 New luxe hotel properties, a higher return for investors, and greater satisfaction by cruise passengers visiting the island are spelling out a brighter outlook for Puerto Rico's tourism industry, according to Tourism Co. Executive Director Luis Rivera Marín.
The government's policy to develop niche markets, such as ecotourism and high-end tourism, is paying off and, as Rivera Marín noted, the high-end sector is proving particularly dynamic this year with several luxury projects finally coming online.
Rivera Marin pointed to the partial reopening on Tuesday of the Vanderbilt Hotel and the inauguration on Thursday of the Royal Isabela Hotel, part of a $100 million project revolving around a world-class golf course being developed over several years by brothers Charlie and Stanley Pasarell. The hotel comprises 20 one-bedroom casitas, a restaurant and other amenities.
Another luxe property is the $342 million, 115-room Ritz Carlton Reserve in Dorado, which is scheduled to officially open on Dec. 12. Rivera Marín said the luxury hotel is "the only 6-star hotel in our hemisphere."
Puerto Rico's tourism industry is on a much stronger footing and one measure of this, according to Rivera Marín, is that hotel occupancy is up and revenue per available room (RevPAR) also has increased through higher rates.
"Investors don't only want to fill rooms, they want those rooms to generate income," he said.
Expanded offerings are making the island a more attractive destination. Rivera Marín pointed to Bahía Urbana, the $80 million development project that aims to transform the zone around Piers 6, 7 and 8 into a thriving urban community. The project was officially kicked off last Friday.
Tourist satisfaction is another measure of success that tourism officials carefully gauge. Here too the island has made strides. Rivera Marín said that according to information from the Florida Caribbean Cruise Association, cruise passengers who visited Puerto Rico reported a 91 percent level of satisfaction in 2012 compared with 68 percent in 2008.
Meanwhile, passengers also expressed a higher desire to return to the island, with 55 percent saying they would visit Puerto Rico again, in comparison to the 41 percent who responded favorably in 2008.
The greatest challenge for Puerto Rico hotels, according to Rivera Marín, is the fact that travelers these days wait to the last minute to make reservations.
Operating costs also continue to be an issue, especially the cost of energy; to this end, many hotels have been making investments to achieve the energy efficiency that will yield greater savings and thus increase profit, he said.